Wonder by R.J. Palacio
.
Guided Reading Level - U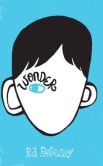 This is an excellent book about a boy named August who was born with severe facial abnormalities. The story focuses on August's first year of going to a "real school" in fifth grade after previously being home schooled. The book begins by telling the story from August's point of view. Later, the book shifts, and the story is told from other points of view. The reader hears the story as told by August's sister, Olivia, and several key students in both August's school and Olivia's high school. I went through an entire range of emotions when I read this book. The author does an excellent job with character development. There are characters I want to hug and characters I want to severely reprimand (to say the least).
I plan on using this book as a read aloud with my fourth graders this year. There are so many excellent points of discussion on how to treat others. My only dilemma is when to read it. Initially, I was thinking about the beginning of the year when how we treat others is such a main focus. However, I may wait until we start talking about point of view. This book is absolutely excellent for that. Besides, it's never a bad time to discuss treating others with respect. Have you read this book? How do you plan on using it in your classroom?
I'm looking forward to seeing the great titles that everyone else found.
Now, on to my favorite pins for the week.
When I click to find the link for this, I received a message that the URL no longer exists. I love the pop of color here with the black and white dress.
I especially love the eraser holder in this pin from
Teaching Madness
. Making this is on my back to school to do list.
I pinned this from
Confessions of a Third Grade Teacher
. What a great idea for great ideas.
I love this chart from
Third Grade Thoughts
. Our school has a leadership theme. I plan on making this chart with them at the beginning of the year, but I will change "classmate" to "leader" to match our theme.
Finally, I'm really into making cupcakes. I love trying new recipes. This is one that I will have to try out soon. They are Twix cupcakes. I got the recipe from
Crafts by: Ready, Set, Love
.
Those are my pins for the week. I can't wait to see what everyone else found.