Hello Everyone! I'd like to share some of my favorite pins for the week. I am linking up with
Cara from the First Grade Parade for Favorite Pins Friday.
Salmon is one of my all time favorite foods. The recipe for citrus glazed grilled salmon can be found on
Betty Crocker's website
.
I already have some ideas for how to use this trick from Geek Ideas. (How to print on a paper lunch bag)
This looks like a great back to school game from
Teach 4 Real
.
I love this. You can text parents, and they will not get your number. It is a free app from iTunes.
Finally, I love these glitter marble magnets from
How was your day?
I really hope I have time to make these before school starts.
Today I am also linking up with
Amanda from The Teaching Thief for Fiction Friday
.
My reading list is full of new books that have recently come out as well as older titles that were recommended to me and I just haven't had a chance to get to yet. The book I read this week is called Turn About.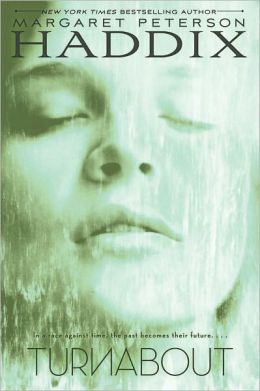 I have read many books by Margaret Peterson Haddix in the past, but I just now got to this one (published in 2000).
Guided Reading Level - X
This book is about an experiment in "unaging". A group of elderly nursing home residents were given a shot that has them age backwards. Originally, they were to be given "the cure" when they reached the age where they would want to stay, and they would remain that age forever. However, it is discovered that the cure will cause them to rapidly age and disintegrate.
The book is mainly about two subjects in the experiment living away from the agency as teenagers. They realize that they are going to need to find someone to take care of them before they get too young to take care of themselves. In the end, they find someone who is willing to take care of them, and everyone is optimistic about their future.
You can read more about this book here.
This book is exciting and very well-written. It was recommended to me by a colleague who uses it as a read aloud. I am concerned that the theme may be to mature for some of my fourth graders. (Some of the participants in the study do not handle this well. Although it is not a main point of the book, some commit suicide.) I think I will offer it to one of my colleagues who teaches older students. I loved the book, but my concerns are going to prevent me from using it as a read aloud or having it on the shelves for anyone to read. However, I think it would be very appropriate to do so in middle school.
Have you read this book? If so, I am curious about what you think.
Thank you!