Hello Everybody! Today I am linking up with Amanda from The Teaching Thief for
Fiction Friday
.
1. Fiction Friday
(guided reading level = T)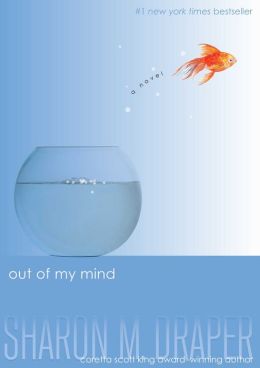 This is an excellent book told from the perspective of a fifth grade girl, Melody, with a photographic memory. Melody is extremely intelligent, but also extremely frustrated. Melody has Cerebral Palsy. She is almost completely paralyzed and unable to speak. Melody is blessed with some very special people (including two wonderful parents and a baby sister) who help find a speaking computer that allows her to communicate more effectively. However, this doesn't even come close to solving her problem of just wanting to be "normal". Warning - You will most likely shed a few tears over this one. The ending is heartwarming, but definitely not in the way you would expect!
I will likely use this book as a read aloud this year. My school houses a multiple handicap unit, including students with cerebral palsy. I have been blessed with students who are extremely kind to all of their classmates. However, it is likely that we way underestimate the extent to which (any) student can overcome their challenges. This book should bring up some great conversation on that topic.
If you have read this book, I'd love to hear your thoughts. If not, I highly recommend it, but have a box of Kleenex handy!
2. Fashion Find
I found a watch that I just "had" to have. I love the sporty style of this versatile watch. During all the craziness of getting ready for school, I figured it was okay to have a mini splurge. Now when I check the time, I'll still think, "Yikes! I'm running out of time!" But at least then I can think, "Cool watch."
3. Fitness Fun
I have had some good runs lately. Part of the credit goes to the very mild summer we have had in Columbus. I feel very fortunate this year. There has been more rain then normal, but that has kept the temperature down, my grass green and my water bill reasonable.
Another piece of credit goes to the running shoes I bought earlier this summer. I've tried just about every brand. (I've been a runner for about 20 years now.) However, I always seem to come back to Nike.
4. House Happenings
In my house I have a very small "room" (5' X 7'). For years, I have used this space a storage for... well, just about everything. This summer, I was on a mission to turn this area into a usable space. Earlier in the summer, I cleaned it all out. I gave away and pitched whatever I could. Next, I painted it lime green. This will be my crafting place, so I wanted a bright color. This week, I assembled a
desk from Target
and wrapped an old bulletin board in fabric. I still have some things to work on here, but it is already 1,000+ times better. I will keep you posted.
5. School Stuff
This year will be our first year to integrate the Common Core. We will also have a new social studies curriculum this year. I have spent a lot of time becoming familiar with the standards and working on the new learning targets. This week I finished the vocabulary cards and learning targets for social studies. I even have the first few posted for our mini unit on map skills.
Well, that's it for me. I know it's only going to get busier from here, but I'm getting super excited about the new school year.
I'm off to check out what everyone else has been working on, and then heading outside for a run.
Thank you!