Hello Everyone! Today I am linking up with
Amanda and Stacia from Collaboration Cuties
for Must Read Mentor Texts. This week's topic is math.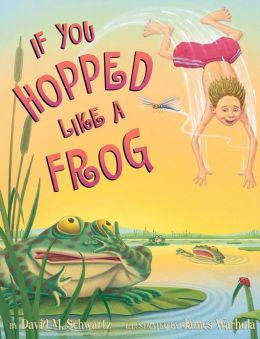 This book is full of fun facts and comparisons such as, "If you high-jumped like a flea, you could land on Lady Liberty's torch." I love the fun facts and illustrations!
In the back of the book are the actual numbers (or close estimates - another discussion topic). For example, a flea can jump about 70 times its own height. Students can use this information to figure out exactly how far they could jump, if they could jump like a flea.
A few of my other favorite facts are:
"If you swallowed like a snake, you could gulp a hot dog thicker than a telephone pole."
"If you had the brain of a brachiosaurus, your brain would be smaller than a pea."
"If you scurried like a spider, you could charge down an entire football field in just two seconds."
In each case, the more precise numbers are in the back of the book. This is a great book for estimation, multiplication, division, and ratios. I just love it, and so to the students.
I'm off to check out all the other great mentor texts.
I hope everyone enjoyed their weekend. Good luck to those who are going back to school tomorrow!
Thank you!