Hello, Everybody! Today, I am linking up with
Jennifer from Mrs. Laffin's Laughings
for her weekly linky A Peek at my Week.
We have been studying story elements in reading. This week, we will focus on setting. I am linking up with
Amanda and Stacia from Collaboration Cuties
to share a mentor text that works great for demonstrating how the setting can influence a story.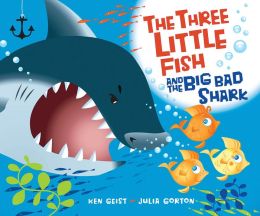 Have ever wondered what would happen if the setting of The Three Little Pigs changed to under the ocean? This book shows how this setting changes my chinny chin chin to my finny fin fin (and other changes).
The first little fish is still not very bright, opting to make his house out of seaweed. The shark was easily able to "munch and crunch" this house.
The second little fish was only slightly smarter, making his house out of sand. Once again, the shark was able to "munch and crunch" this house.
The third little fish was the smart one of the bunch. He made his home in an abandoned boat.
As you can see, the shark could not "munch and crunch" his way in here. Don't worry about him though. He ended up changing his diet to seaweed.
Together, we will make a chart that compares this book to the original, The Three Little Pigs.
I love using this book to demonstrate the importance of setting. After sharing this book, I have students rewrite another popular story in a different setting. I have students complete this activity in their reading notebooks.
This story makes a great read aloud, and the students love it. Here is a
video
of the book, if you prefer that format.
This Friday, I will celebrate my birthday. I am looking forward to spending it with some of my closest friends. Of course, I will have to get a new outfit for the occasion. I will find some time this week to do a little shopping. I have always been the type of person to celebrate my birthday. I am incredibly grateful for the life I have!
I'm off to check out what everyone else is up to this week and to check out all the other great mentor texts. Thank you, Jennifer, Amanda, and Stacia for hosting these wonderful linkies.
Thank you, and have a great week!